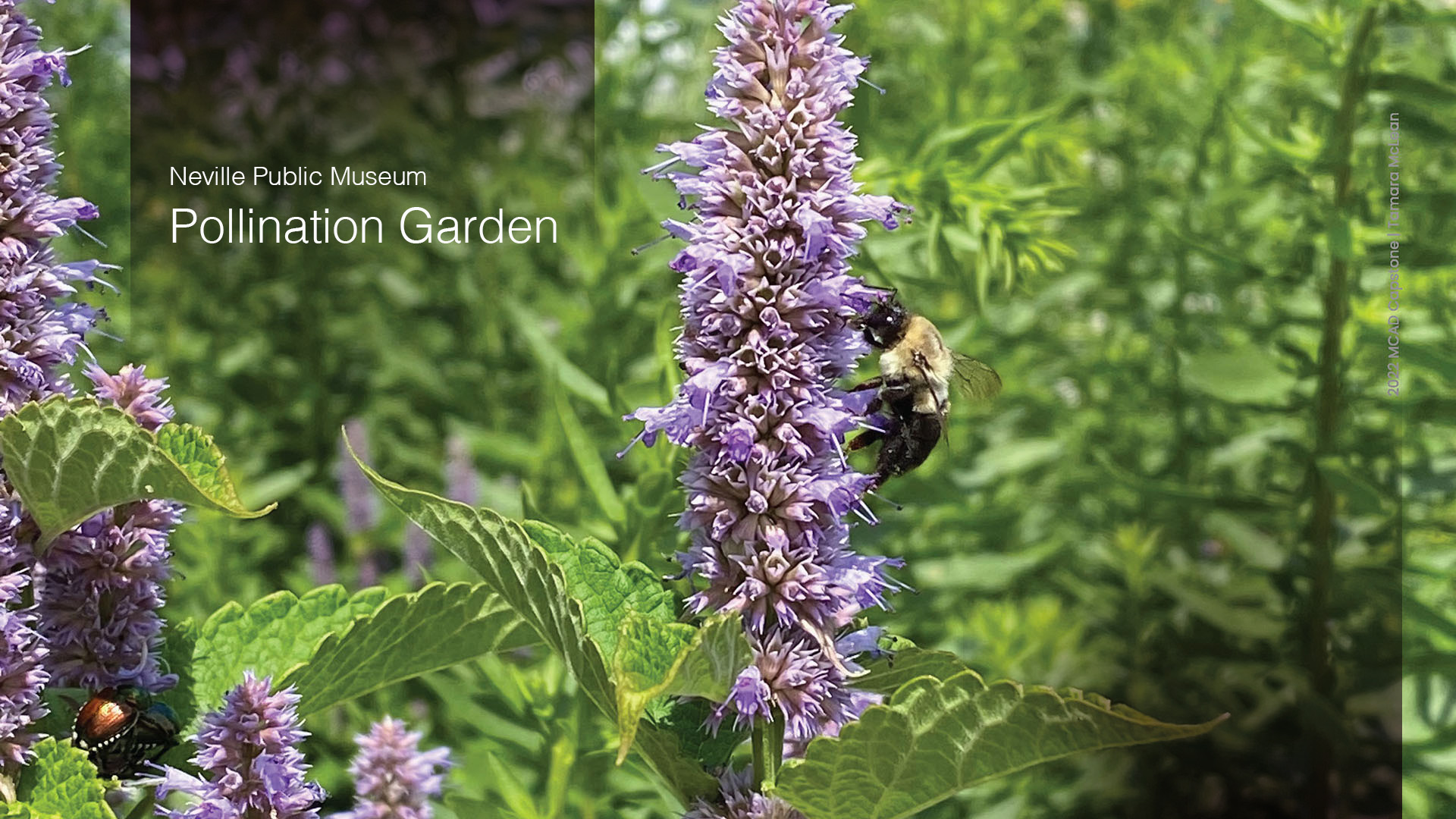 Pollinating the world, one garden at a time.
Visit Our Interactive Outdoor Classroom
Pollination gardens provide habitat to wildlife by providing food, water, shelter, and places to raise young, sustaining biodiversity in urban areas, which is critical to our food web. Bees and other native pollinators around the globe are disappearing at a shocking rate; it is clear that we need to act immediately.
Welcome Visitors
Visitors waiting for the museum to open arrive at the pollination garden. As a Neville Public Museum foundation board member, together with the museum staff, I would like to welcome visitors to engage with the pollination garden while they wait for the museum to open. The current lack of signage & descriptions results in ambivalence toward the pollination garden.
The goal is to educate families about the benefits of pollination gardens through entertaining mobile experiences and encourage home pollination gardens by providing knowledge about plants and best practices.
Relative Research
Data Collection, User Testing Results and Questions, Thoughts toward a Solution can all be found in this progress platform online document.
Process + Tools
Process: Research, Sketch, Ideation, Wireframe, Prototype, Itererate.
Tools: Apple MacBook Pro, Apple iPadPro, Apple iPhone, Procreate, Adobe Illustrator, Adobe Photoshop, Adobe Dimensions, Adobe AfterEffect, Adobe Premier Pro, Figma, Instagram Spark AR, YouTube
Thank You
Thank you to my advisor Lafe and all of the professors I have worked with in the past two years while enrolled in the Master of Arts Graphic and Web Design program at Minneapolis College of Art and Design. Through their mentorship I have grown my skills and understanding of graphic design history, and future opportunities.
Thank you to the Neville Public Museum staff and foundation board for supporting me in the Pollination Garden Project. Your valuable expert feedback and commitment to accurate facts provided me with the research necessary to create a successful design solution. Special thanks to Beth, Kasha, Dennis, James, Ryan and Devyn. Your professionalism and dedication is obvious in everything you do for the museum and our community.
Summary
This capstone project has been every bit as challenging as advertised. The semester is a blur of due dates and deliverables. One of the most rewarding parts of the experience has been working with students and faculty at our weekly critiques. Every week the valuable comments made this project better.